HOME > Products > Reflow
The Benchmark in Lead-Free Profiling

| | |
| --- | --- |
| 상품명 | Solderstar Pro |

| | |
| --- | --- |
| 제조사 | Solderstar |
▶ About Solderstar profile
각 Solder Paste의 특성. Reflow의 Zone구간을 입력하면 자동으로 각 구간 별 온도 설정 값 을 알려준다. 또한 측정하고자 하는 PCB 혹은 피 형체의 사진을 입력 할 수 있으며, 각 Solder Paste의 특성. Reflow의 Zone구간을 입력하면 자동으로 각 구간 별 온도 설정값을 알려준다.

또한 측정하고자 하는 PCB 혹은 피 형체의 사진을 입력 할 수 있어 Data 분석에 매우 유용하게 할용할 수 있다. 스위스의 국제적 검사 대형 기관인 SGS 국제적 검사 대형업체에서도 Reflow 내의 온도측정장비로 사용하기도 하는온도 프로화일 이다.

Data 분석에 매우 유용하게 할용할 수 있다. 스위스의 국제적 검사 대형 기관인 SGS 국제적 검사 대형업체에서도 Reflow 내의 온도측정장비 로 사용하기도 하는온도 프로화일 이다.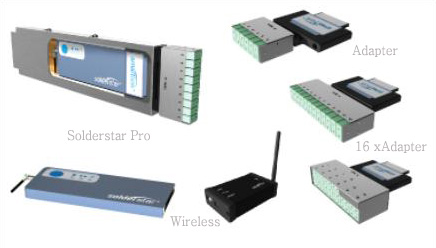 ▶ Solderstar Pro
Designed for manufacturers and EMS providers looking for the ultimate in thermal profiling, the SolderStar Pro package takes profiling capability to the highest level and provides true process profiling for optimum quality control.



The SolderStar Pro includes the ultra compact Neptune SL datalogger with unique 'SmartLink' connector system.

'SmartLink' allows high measurement channel configurations, while maintaining a small footprint and connection to a range of accessories for capture of SPC information from both reflow and wave soldering processes.

A comprehensive suite of full- feature software includes profile simulations and integrated SPC charting tools.

This easy to use system is ideal for manufacturers and EMS providers who profile periodically to form a complete mass soldering quality control tool.

▶ System Features

Compact size for profiling of narrow PCB formats or ovens with low tunnel clearance

Support for 6 to 16 measurement channels for profiling of the most complex PCB assemblies

Smartlink connection system provides quick datalogger connection to a range of products and accessories

Software tools including profile analysis and simulation, plus integrated SPC management features

High temperature USB rechargeable battery system

Connectivity via standard USB cables or 2.4Ghz Wireless Telemetry

Extendable for control of wave / selective or vapour phase soldering

▶ System Advantages

Industry standard 6 -16 Adapter channel configuration
High lead-free thermal protection and rapid cool down cycles
Extensive oven and solder paste libraries aid rapid process set-up and optimisation
Professional software tools including profile analysis, documentation and simulation
Extendable for use with wave soldering machines
High quality, professional and robust
Battery recharge and data download via high speed USB
▶ Technical Data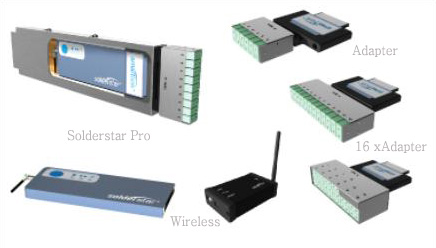 Size / Weight 236mm x 50mm x 9mm, 168g
Measurement Channels 6 x Type K (Thermocouple test feature)
Memory 65,500 points
Sampling 0.1s ? 10 minutes, user selectable
Measurement Range -150°C to 500°C
Accuracy +/- 1°C
Resolution 0.02°C measured internally
Max Int. Operating Temp +85°C (Auto stop on over temperature)
Power Rechargeable high temperature NiMH
Communication USB (Standard A to MINI-B)
Thermocouples 6-16 Adapter x Type K, Special limits of error.
▶ Heatshield
Supplied Model HS2580
Size / Weight 290mm x 80mm x 25mm, 560g
Material Polished Stainless Steel
▶ Standard Equipment
| | |
| --- | --- |
| 1) | SolderStar PRO USB datalogger |
| 2) | Thermocouple Adapter (6 - 16) |
| 3) | 25mm Lead Free heatshield |
| 4) | Type K thermocoupless |
| 5) | Profile Central PC Analysis software |
| 6) | Profile Seeker Simulation + SPC Manager tools |
| 7) | Reflow oven and solder paste libraries |
| 8) | Hard copy manual + 1 Year calibration certificate |
| 9) | Equipment case |
▶ Software
Compatibility Windows™ XP. 7.
Language Support English, French, German, Italian, Korean,
Portuguese, Spanish, Simplified & Traditional Chinese