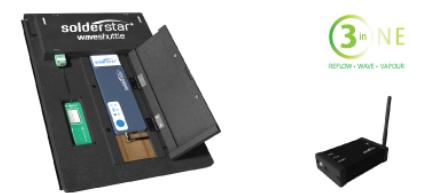 Designed to work in conjunction with the SolderStar Pro temperature profiling package, this sophisticated accessory provides detailed analysis of all key parameters of wave soldering.

The WaveShuttle Pro is manufactured from advanced anti-static composite and fitted with durable titanium side rails, allowing its repeated use with high temperature lead-free solders.
This active pallet incorporates titanium sensors on the underside that gather data on contact parameters as it moves through the solder wave. At the same time the SolderStar SL high speed datalogger system accomodated on the upper side via a SmartLink connection measures temperature profiles, stores data and effects data downloads.

By capturing data on the temperature profile as well as solder wave interaction parameters in the same pass, this unique tool provides medium and large electronics manufacturers with set up capabilities as well as full, cost-effective SPC of their wave soldering process.

The WaveShuttle Pro is supplied with Wave Central PC Software, a dedicated package for the analysis of all key wave soldering parameters. Based on SolderStar's interface and navigation system it allows users of other SolderStar products to perform detailed wave solder analysis with minimal training.