Miniko는 Semi Auto Printer로 정교하고 반복전인 Solder Printer 작업에 매우 효율적인 장비 입니다. 
특징으로 Dual Vison Camera. Dual LCD 화면을 통하여 보다 빠르고 정확한 엘라이먼트를 할 수 있습니다.
터치 스크린 판넬에서 Squeegee Printing 속도. 압력. 거리. Gap등을 작업 유형을 설정 할 수 있으며,  어떠한 유형의 프린터도 가능 합니다.
단면. 양면. 원형, 웨이퍼 등 다양한 Fixture을 통하여 정확하고.고품질의 Solder Printer 구현을 위하여 다양한 선택사양들이 있습니다.
적용업종 :  R&D .  반도체 Lab .  방산 . 의료장비 . 우수항공 . 산업기기. 정밀 프린터를 요구하는 공정.
The new affordable, Semi-Auto entry-level Miniko printer from Reprint provides the user
with the functionality and features normally only found in more expensive semi-automatic machines.
An easy-to-use and intuitive graphical user interface with touch screen control combined with the printer's state of the art servo motor control system provide precise, repeatable printing every time, all of the time.
Low maintenenance, low running costs and unrivalled reliability all packaged in an efficient benchtop design makes the ideal choice for a wide range of production environments.. 
      Features
584mm standard screen frame format - Optional adaptor available for smaller frames.
Closed loop servo motor control throughout the whole print cycle.
A simple to use graphical user interface with touch screen control.
Easy to use - no specialist training required.
Small footprint. Available in bench top configuration or with optional stand-alone base..
Optional twin camera vision system - also available with optional laser guidance.
Easy, Accurate and Reliable Operation.
Solder paste printing is arguably the most important step in the SMT production process. The trend to towards smaller components makes it more difficult to achieve accurate, repeatable printing particularly on small hand operated machines.
This all changes with Semi Auto Printer
Compact in size, precise and easy to use, this printer takes away the uncertainty associated with hand printing or manually operated printers. All functions of the printer are controlled via the simple to use graphical interface. Operators need no specialist training.
Stencil alignment is precise and quick and is further enhanced with our optional twin camera manual vision alignment system which allows the user to view the board and stencil simultaneously. An optional laser pointer on each camera allows easy indication of the camera's position.
As standard, each product's printing parameters are automatically saved to flash memory card. An almost unlimited number of products can be saved in this way.
The printer provides :
| | |
| --- | --- |
| ˜ | Programmable print parameters including printing speed and pressure. |
| ˜ | Programmable board from stencil separation speed and distance. |
| ˜ | Twin squeegee printing with independent control of printing pressures. |
| ˜ | Full motorised control of all stages of the printing process. |
| ˜ | All product files saved to removable Micro SD flash card. |
| ˜ | Extensive built-in machine diagnostics. |
| ˜ | User interface available in English, others available on request. |
| ˜ | Pneumatic clamping system for fast, secure stencil retention. |
| ˜ | Through-stencil alignment with optional vision system. |
| ˜ | Fast board changes with easy and precise tooling design. |
| ˜ | Optional vacuum tooling available. |
| ˜ | Double sided printing. |
Simple Low Cost Maintenance
From its inception the Miniko printer has been designed for minimal maintenance and low running costs.
The 90-240 Vac single phase power supply and motor control board are easily accessible allowing fast modular replacement.
Tracking down possible problems is made easier with the extensive diagnostic menu found in the user interface.  
Flexibility and Absolute Precision
The Miniko is a fully programmable precision printer small enough in design to be placed on a table making ideally suited for prototype or small batch printing. Optionally, the printer can be supplied with a robust stand-alone metal stand.
The servo motor controlled printer allows for repeatable, faster set-up and change over times; not forgetting superior print quality.
The Miniko is designed to print single and double-sided PCBs but can also accommodate ceramics and foils through the use of the optional vacuum tooling. An extra attribute of the printer is the ability to provide borderless printing on substrates up to 450 x 460mm.
사진설명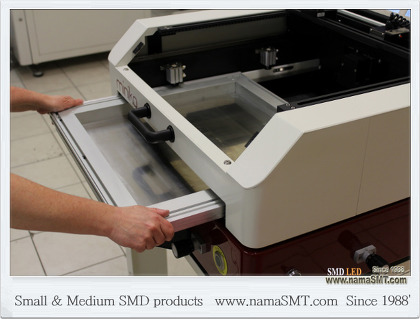 Easy Stencil Frame Setup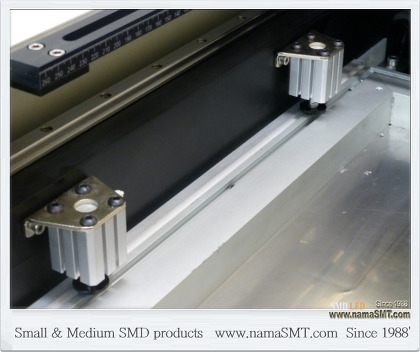 One Touch Frame Fix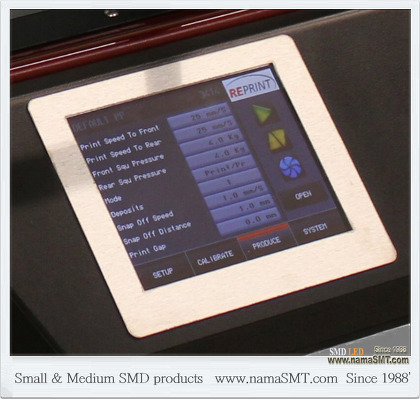 Touch screen Control  LCD Panel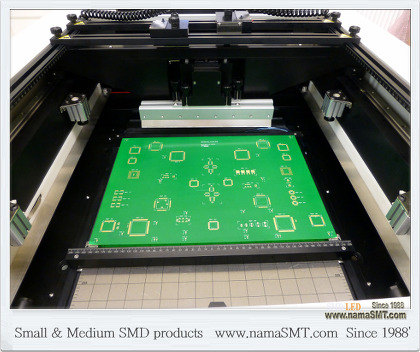 다양한 유형의 PCB Set up.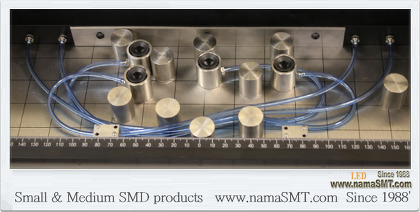 Vacuum Fixture unit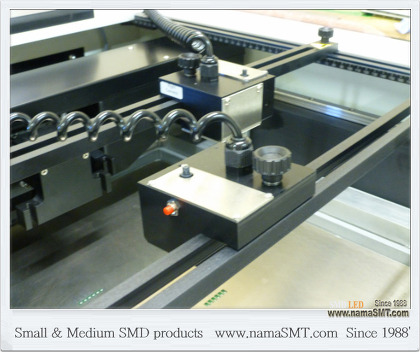 2 ea x CCD Camera with laser mark point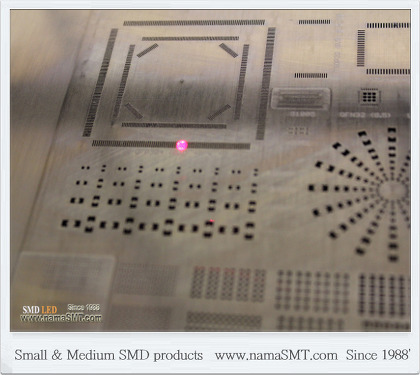 Camera을 통한 엘라이먼트 위치를 설정 시 Laser Mark로 쉽게 잡을 수 있다.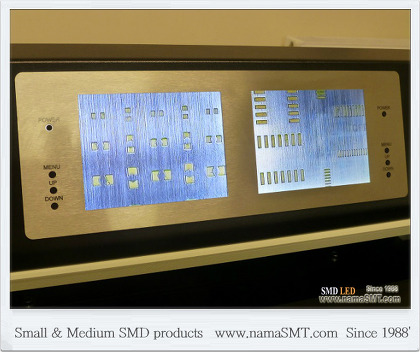 Dual LCD Monitor를 통한 Stencil  과 PCB를 쉽게 얼라이먼트 가능.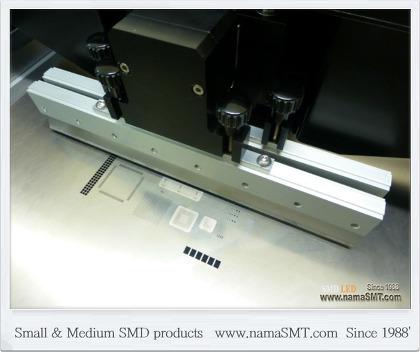 Double Squeegee.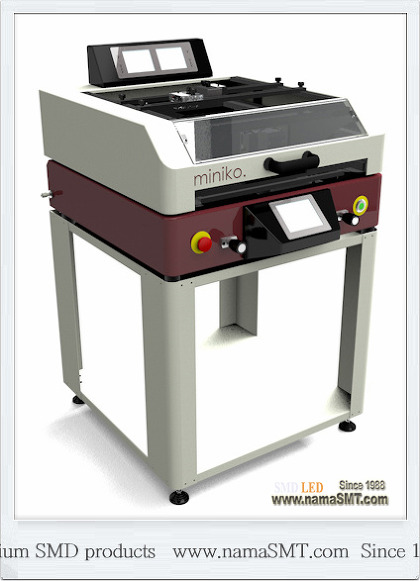 Stand Frame을 사용 사례.   어떠한 Table에 올려 놓고 사용하면 된다