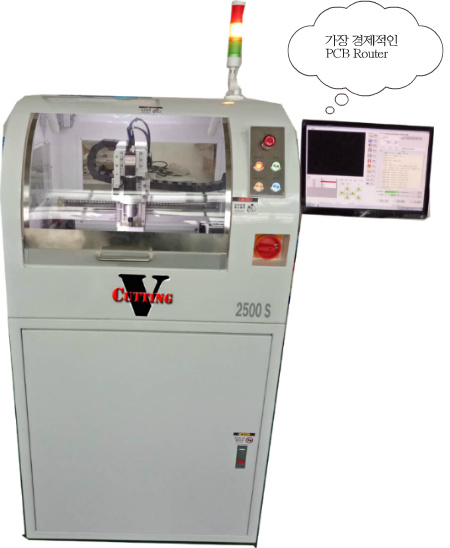 PCB Router N2500 장비는 up grade된 소형 PCB Router 장비 입니다.
        본 장비는 부품 Module 작은 부품을 정밀하게 PCB 분할하는데 좋은 장비이다. RPM 속도가 높이
        매우 정교하게 PCB을 분활하여 준다.
        특징은 PCB에서 쉽게 프로그램을 할 수 있으며, 다양한 Symbols이 있어 빠른 시간에 프로그램
         설정이 가능하다. 장비 자체에 PCB 분진을 흡입하는 " Vacuum unit " 기본으로 있어 별도 분진에
         따른 집진 시설을 하지 않아도 된다.
         장비 크기는 매우 " 콤팩트" 하여 어떠한 장소에도 설치가 가능하다.  가격 또한 경제적인 장비로
         그간의 Router 장비 가격 과 비교하였을 때, 성능 대비 가격이 매우 흥미 있는 장비이다.
 N2500 Routing 작업 정밀 작업
소량 기종 및 다품종 작업에 적합
 N3500
IN line 작업 가능한 장비 이다.
2500S PCB Separator uses high speed rotation milling cutter to separate PCB array. Widely applied in
digital, communication, lighting, etc. Which improved the defect on PCB separating caused by
manual, V-cut, stamping, etc
Features :
1.     Apply dust collection from downside.
2.     Specialized Jig, to avoid error on shear accuracy caused by poor positioning
3.     Automatic correction according to position where PCB is located, which ensure shear accuracy
4.     Static Eliminator is configured, used to clear static generated during high speed shear, which to
     avoid component damage by static and dust piled up because of static.
5.     Safety door is applied, decrease noise and dust, for more safety
6.     Dust collecting Box placed below Collector, need to clean the box termly according to working status.
High Speed to shear
Professionally designed for high quality shear, equipped with high speed rotation Main Axis,
which work with high speed drive platform.
It solves the difficulty on shear of PCB array, realizes high efficiency and accurate production.
Strong Dust Collector
Apply dust collector with structure of negative pressure, it can clear dust from PCB shear simply
Drum-type dust collector placed at bottom of the machine, with features of saving space, low noise,
low power consumption (1/2 of equivalent equipment), limited production space is saved.


Milling Cutter shears gradually by different sections, Low Consumption in production
 
After milling cutter workings for some distances, it would adjusted to other unused section of the
cutter to continue shear , in this way, the shear life is prolonged and the consumption is lowered
as well.
High Accuracy Visual System
high resolution CCD camera, auto alignment, Mark position compensation, real time surveillance
on shear route, keep shear in "high accuracy" and stability, which is able to meet requirement on
production of precise product.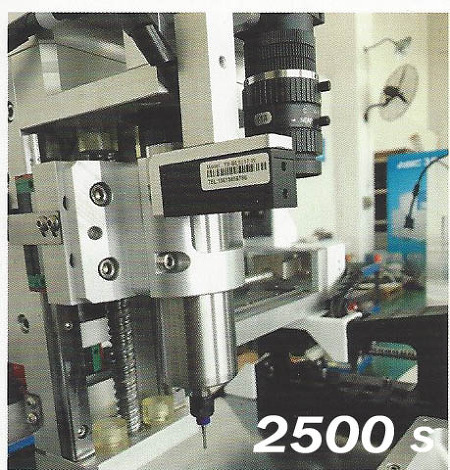 Vision 기능으로 보다 쉽게 프로그램 작업 가능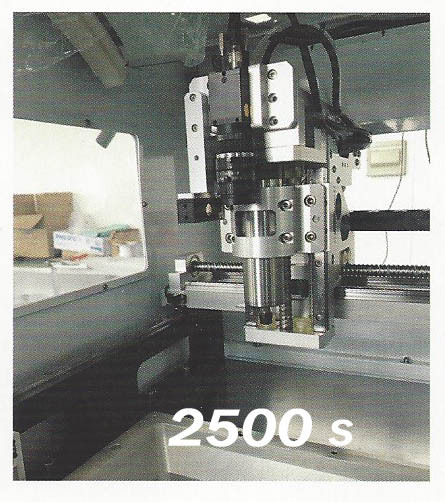 고속 모터로 사용으로 정교하고 섬세한 PCB 분리 작업 구현
 장비 내부 진공 Unit가 있어 분진 저장 기능 기본.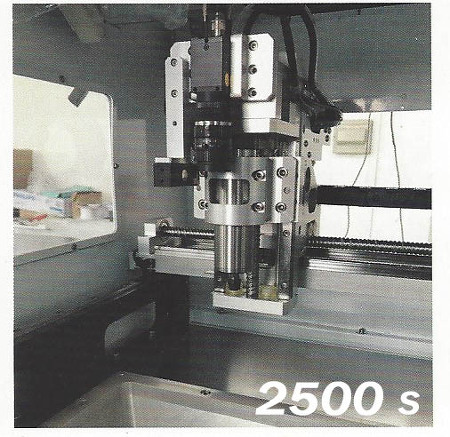 운영이 간편하여 누구나 고품질 작업 구현
Self Diagnosis
Self Diagnosis on error, for the faults occurred in running, recover production in time.
Simple Operation Interface, free update on software
Independent research and development, humanized operation interface, simple program,
short time for line changing, production effic